Since its establishment, we have been committed developing a technology platform to build a digital content ecosystem. Challenges keep coming, but our spirit never ends to improve Indonesia's digital literacy. This is our journey and achievements.
Aksaramaya has 4 platforms to facilitate public education and literacy.
MOCO Content Catalogue Platform
Pasar online dan antarmuka untuk penyedia dan pembeli konten. Penerbit dapat mempromosikan dan menjual sedangkan pembeli dapat merencanakan anggaran secara sistematis, memilih, membangun dan mengelola koleksi konten mereka.
MOCO Backend as a Service
Platform perantara yang dirancang untuk meningkatkan produktivitas pengembangan aplikasi. Melalui MBAAS, proses pembuatan prototype aplikasi, implementasi, pengujian hingga aplikasi menjadi lebih mudah dilakukan.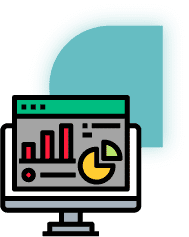 MOCO Data Analytic Platform
Platform to make data collecting, processing, modelling and visualization easier. We can access everything in single dashboard. MDAP has data pre-processing, data crawler, data catalog and graphic visualization.
MOCO Digital Library Platform
Technology infrastructure that run digital library application. This platform equipped with current security features (Single Sign On, Secure Content Repository, Digital Rights Management) and offers own standardized technology platform for Aksaramaya's strategic client.
The idea to get into digital literacy industry came up in 2010. For 3 years, we doing research to decide platform, service, product and program.
2013 become the beginning of new era. Aksaramaya was launched and MOCO application enter development stage as a launch preparation in 2014.
Aksaramaya started its journey on June 8th, 2014 by releasing a book-based application based on social media application called MOCO as the first social reading app and the only one in Indonesia.
Aksaramaya develop iJakarta application as the pioneer of digital library app based on social media.
Aksaramaya collaborate with Perpustakaan Nasional RI to launch iPusnas followed by 6 (six) region.
Do collaboration with TICMI (The Indonesia Capital Market Institute) dan 15 (lima belas) perpustakaan daerah untuk meluncurkan aplikasi perpustakaan digital berbasis media sosial.
Launch Wapres Library mobile app and 26 (twenty six) local library.
Build technology platform such as MBAAS, MCCP, MDAP and MDLP to develop modern applications to establish technology platform ecosystem. On this year we launch Edoo. We also do collaboration with 2 (two) strategic partner and do launch 41 (forty one) digital library app based on social media.
Win Best Performance Award from Gramedia Group, do collaboration with 9 (nine) strategic partner and launch 26 (twenty six) digital library app based on social media. Aksaramaya also launch training marketplace MOCO Academy, survey service AS8, etc.